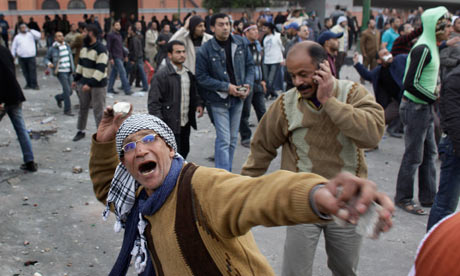 Photo The Observer UK How Twitter engineers outwitted Mubarak in one weekend by John Naughton

After the celebration, Tweeting in Cairo After the Revolution
Providing some context on twitter usage in Cairo compared to other major cities
My team is developing a set of Web 3.0 analytic tools. So when the Cairo revolution happened we had a real chance to observe the biggest story about mobile social media yet and measure with a level of objectivity that journalist reporting on this story lacked.
Our tool is designed to get from Twitter the tweets for a given location. Twitter returns to our tool a set of the most recent tweets, when they were tweeted, and their geo-tagged location. When then use our model to convert this data to a score between 0 and 100. Scores below 10 generally indicate low uptake of Twitter while scores over 80 show high uptake.
Many people have made a great deal out of the role of mobile social media tools like Twitter and Facebook in organizing and communicating during the revolution. Now after Tahrir Square in Cairo saw Thursday and Friday tweeting levels as high as anywhere in the world, we ask what is the overall state of Tweeting the day after the day after the revolution.
Well firstly we have seen that geo-tagged tweeting intensity has dropped of in Cairo city center.
Taking a look at 1 PM local time Sunday the 13 we see that Cairo has quited down a great deal in the past two days:
Cairo city center has dropped to a 4 out of 100 on our scale. This is almost a return to pre-revolution levels.
But Tahrir Square is still seeing very high tweeting, though not a the level of Thursday or Friday. At 2 pm Tahrir Square was tweeting on our scale at 65/100.
A great deal had been made during the hight of the revolt on the sheer number of tweets being produced in Cairo. But it is important to keep in mind that these levels of tweeting, though high for Cairo, are seen every single day in many major cities.
To give some perspective on this at about the same time, 11 PM GMT Sunday, we looked at some major other cities in the world.
In Asia we recorded the following scores for big cities on the scale of Cairo's population:
So though tweeting in Tahrir Square is very hight, city center tweeting in Cairo is significantly below that of Shangai China where it is late in the evening, and Tahrir Square tweeting during the revolution does not even come close to the very high levels of Tweeting of Asian cities like Tokyo and Seoul.
Even though it was the middle of the nigh in New York the area around New York University in the center of Manhattan had a very high 96
So even though Cairo has seen a jump in Twitter usage, it has not remained high outside of Tahrir Square an it is still significantly lower than constantly high levels in more developed massive cities. For all the intensity we witnessed with Tweeting in Cairo and other parts of Egypt, this was only a tiny fraction of the constant churn of tweets being developed every day globally.
We have also seen a sustained rise in the adoption of Tweeting by the Gulf Arab nations. At 11 PM GMT time we observed the following scores:
Doha
tweeting level was
81
real time:
http://t.co/Wexr8vv
Currently the focus of the ongoing Arab revolt has moved to Yemen and Algeria, nations with little or no active geo-tweeting that we can detect. But the high level of adoption of Twitter by Gulf Arabs may have political impacts, and as we saw in Cairo this impact may be very sudden and unexpected.
Twitters mobility, its low technology requirements, and its ease of use and distribution has provided a mobile cheap collaboration tool and self publishing that the world is suddenly starting to take advantage of. We anticipate that twitter adoption will continue to grow exponentially and we are already anticipating the need to refine out model to deal with a world of much much higher tweeting.