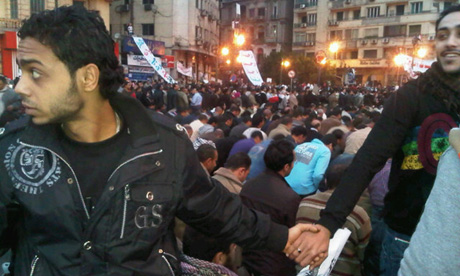 SXSW 2011: Clay Shirky on social media and revolution Technology guardian.co.uk
:
With a tear in Clay Shirky's eye, the 500-strong SXSWi audience in downtown Austin broke into a spontaneous round of applause.
It was halfway through Shirky's keynote speech, with a photo of Egyptian Christians joining hands to protect praying Muslims in Tahrir Square, that his rallying cry for "more responsive governments" really moved his audience. "I always tear up when I talk about it [the photo]," the leading web thinker admitted.
It was the most poignant moment of SXSWi so far – and in a talk that his critics would find it difficult to file under "digital utopianism".
Shirky admitted to "getting it wrong" in previous writings about how social media can affect political change. Although it is "still early days" in understanding at what point social media can be said to have affected social change, it is now clear that "disciplined non-violence [which brought down Tunisia's Ben Ali] doesn't come from synchronised turnout".