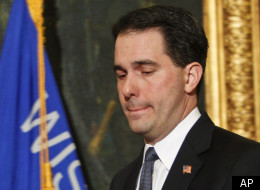 Gov Scott Walker of Wisconsin ignored Social Media's clear message and relied on old fashioned politics, and he just paid dearly for his old fashioned thinking.
Scott Walker's 'Waterloo': 19 Counties Flip To Democrats In Wisconsin Supreme Court Race from Huffington Post
"On a conference call with reporters Wednesday afternoon, Wisconsin Democratic Party Chairman Mike Tate was jubilant over the results, saying they represent a 'watershed moment for Wisconsin and a Waterloo for Scott Walker.'"
Scott Walker would have probably been wise to notice the intense power of Democratic Web at the time. The intensity of tweeting and the level of national and global support for the protest should have made it clear to him that any victory he might win would be short lived.
Key lessons are as follows:


The old Regimes of power that could crush movements are over, even if you can win politically your opposition can stay together and come back at you;
The advantage is now with the insurgent movements over established powers;
Regimes can no longer count on the demoralizing impact of power, in fact people are likely to be made more unified by expressed statements in a social network;
Power had better learn to listen, because people have learned how to be heard.
Surprise tactics by power no longer work, as opposition is more agile and has most of the advantages now. Established powers need to learn to be honest, transparent, and compromise.
We have seen the tweeting levels of Milwaukee rise from Clima score of 600 out of 100 to 85 out of 100 as news of the upset spread.