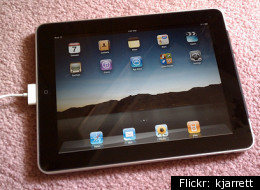 Huffington Post:
The Top Use For Tablets: Gaming (STATS)
:
"A survey conducted by Google's AdMob offers insights into what people are doing with their tablets, where, and for how long.

"The statistics indicate that tablet owners are shifting their time away from TVs and PCs to consume more and more content on iPads, Galaxy Tabs, and other slate devices.

"The most popular activity on tablets? Gaming, followed closely by search and email. The survey, which polled 1,430 people in the U.S. in March 2011, found that 84% of tablet owners play games on their tablets, 78% search for information, 74% use it for email, and 61% read the news. The two least popular activities, according to the survey, are shopping and reading e-books, with just 42% and 46% of users, respectively, say they use their tablets for these purposes.